Air Force Challenge Coins
- Big Sale - As Low As $1.925/pc
- Free Design & Artwork Proof
- No Minimum Custom Coins, 30% Off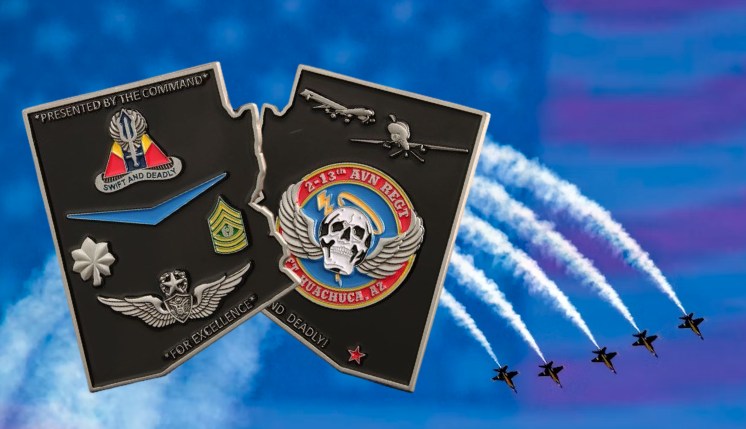 Why We Love Air Force Challenge Coins?
Precious Custom Air Force Challenge Coins are a special gift for any holiday, promotion, or any time of the year for veterans, a symbol of honor and strength. Owning Air Force Coins represents an Air Force soldier who exceeded expectations, accomplished some great heroism, or achieved some major achievement.
Use our online quote system and design drafts to create your own unique challenge unique challenge coins in 5 minutes! Why not order custom challenge coins no minimum for your Air Force members now?
How to Get Unique Air Force Challenge Coins?
Special Coin Design
The Air Force challenge coins are very rigorous in design and reflect the Air Force's outstanding service and loyalty. You can design air force coins based on the background story or concept of your military organization or soldier.
Favorite Shape and Craft
Many Air Forces carry their earned Custom Air Force Challenge Coins around. How to make your personalized coins stand out? Using unique shapes, adding corkscrews or 3D designs are all good ideas.
Engraving Serial Number
Laser engraving serial numbers on your custom military coins is also a very special challenge coin design. Make them limited edition commemorative coins and display them proudly on your desk.
Air Force Coins Personalized Design Drafts
We can provide AI design for your artworks free of charge for customizing your products.
---
Popular Air Force Challenge Coins Design Drafts
---
Plating Finishes
Edges
Packages
Questions About Custom Air Force Challenge Coins
Q: Can I customize the front and backside of my Air Force challenge coins?
A: Yes, this is one of the biggest advantages of custom challenge coins over lapel pins or buttons. Your Challenge Coin can have the same design on both sides, or a different design on the front and back.
Q: What will you do with my Air Force challenge coin designs?
A: Enamelcoins.com will only use your challenge coin designs under your authorization, and we will not take advantage of your coin design in any way other than making the challenge coins you ordered.
Q: What sizes are available for your custom Air Force coins?
A: As you can see from our online quote system, the common sizes are 1.5'' to 3''. Of course, if you need other sizes, we can also implement them for you.
Ready to Create Air Force Custom Challenge Coins?
Click the Get Quote button and select your favorite coin option to get a quote within three minutes. Or, order challenge coins using our handy online design. Of course, you can also leave the coin design entirely to us.
After receiving your order, we will do the coin design for you for free, and send the design certificate to you for confirmation. At this point, we will modify your design work for free, and no limit on times.
After you approve the artwork of your custom challenge coins, our customer services will inform our own factory to produce your coins, carry out rigorous quality inspection, and then ship it to you for free.
Customize
X
EnamelCoins specialize in custom challenge coins for U.S. Army, Police, Navy, Air Force, Marines and Coast Guard. Free Automated Quotation System online.
FREE artwork and design
FREE Shipping
FAST Production